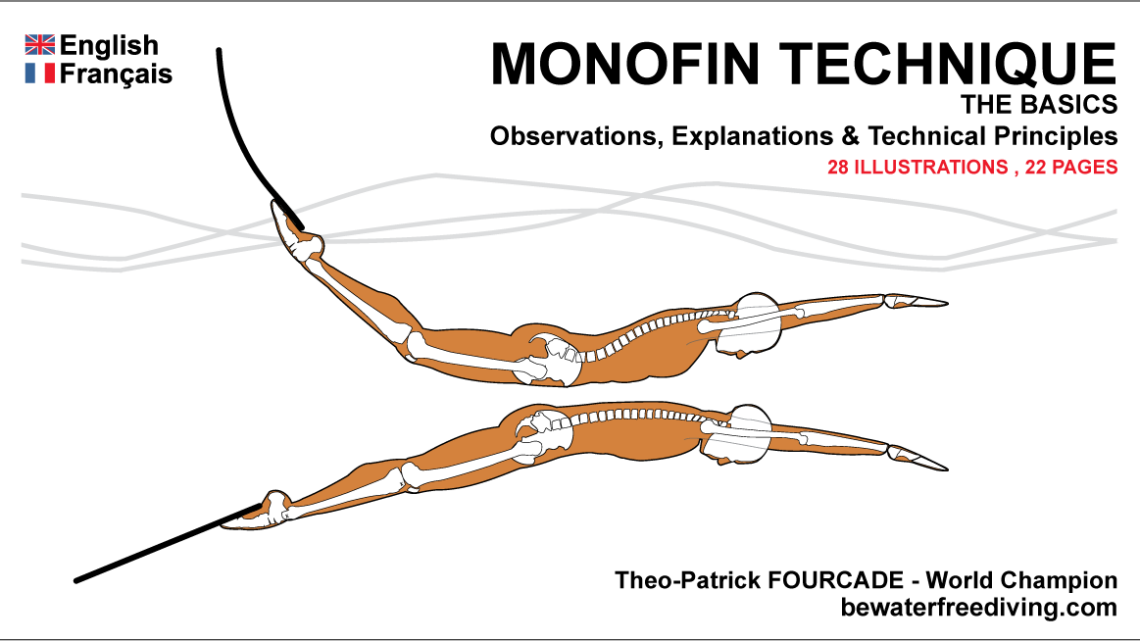 The observation and understanding of the technique of swimming with a monofin are the essential prerequisites for your practice. During the initiation, improvement or training courses that I organize, my objective is to make you actor of your learning by giving you tools to understand and appropriate the technique. The 28 illustrations that I have made for this…
6 September 2020
What is the purpose of this blog? I will talk about monofin technique for freedivers (DYN and CWT). I have no intention to give you an absolute truth about monofin technique, I will just explain to you my 28 years of understanding of this particular technique. It will be only a way, my way, to describe what you need to know to swim better with a monofin as a freediver. I will explain it with my English, which, I'm afraid might not be perfect!
15 September 2019
I've organized the blog with all the elements I want to discuss. I hope that little by little the blog will fill up with informations that will be useful to you: monofin technique, monofin courses, training camps organized for groups where you are based, freediving courses, training program proposals, video analytics and an additional section…
30 June 2020
To define a swimming technique it is necessary to know the environment in which one we will evolve in order to be able to propose an adapted and efficient response (movement). : Basics Knowledge before talking about Monofin Technique – Notions of Hydrodynamics.
29 June 2020
You want to know about monofin swimming technique. Perfect! But before you do that, you need to have a good understanding of what defines : Technique and Style.
29 June 2020
Monofin foot pockets are extremely important in the leisure practice or in the search for performance. What do you know about them? Basic Knowledge about monofin foot pockets, wings and rubber strips.
29 June 2020
You have a monofin blade made of fiberglass or carbon, but you don't really have an idea how it's made? Here's a little article that might shed some light on the subject : Basic knowledge about the blade.
29 June 2020
A little history can't hurt, especially if you're passionate about a subject. Knowing a little more about the evolution of a discipline will allow you to understand a little more about its universe. Here's a short summary to introduce you : Brief History about the Monofin.
29 June 2020